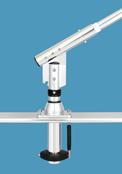 Outriggers and Rod Holders:
2019 Price List [PDF]
In order to view PDF files on your computer, you must have a PDF reader program installed. If you do not already have such a reader, you can download a free reader at Adobe's website:

2019 PRICES EFFECTIVE January 01, 2019
ALL PRICES F.O.B. OUR PLANT IN WILMINGTON, NC.
PRICES SUBJECT TO CHANGE WITHOUT NOTICE
PRICES INCLUDE FEDERAL EXCISE TAX WHERE APPLICABLE
LIMITED ONE-YEAR WARRANTY
All products made by Lee's Tackle Inc. are warranted against defects in materials and workmanship to the original owner for one year following their date of purchase.  This warranty does not cover damage resulting from improper use, accidents, user's negligence, failure to clean properly or normal wear and tear.  This warranty is void if repairs have been made or attempted by any unauthorized person.
If your product has a defect within the terms of the warranty, you should return it to us – call or write Lee's for a Return Authorization Number (RA#) -- along with proof of purchase, post paid, at the address indicated below.  We will then repair or replace your product, at our option, without further cost to you.  If, however, we determine that the provisions of this warranty do not apply we will repair the product and returned it to you at a reasonable charge for labor, parts and return postage.